My style of music could best be described as a mixture of Bluegrass style with that of Southern Gospel. I love the Harmony of the Southern Gospel Quartets and love the instrument stylings of the old time Bluegrass Groups.

I HAVE ALWAYS HAD A MUSICAL INTEREST ALL MY LIFE. I STARTED OUT MAKING UP SILLY SONGS AS A KID. I GREW UP HEARING MY DAD PLAY GUITAR AND PIANO, AND MY MOM SINGING. MOM WAS ALWAYS SINGING AS SHE WORKED.
WHEN I GOT TO BE A TEENAGER, I STARTED PLAYING IN ROCK N ROLL BANDS, FIRST PLAYING BASS ON A REGULAR GUITAR. AT THE AGE OF 15 I STARTED TAKING LESSONS AT LARRY DANIEL MUSIC. I TOOK GUITAR FOR ABOUT 2 YEARS.NONE OF THE BANDS I PLAYED IN WENT ANYWERE, IT WAS HARD TO FIND ANY DEDICATED MUSICIANS. MOST OF THE TIME WE WOULD GET TOGETHER TO PRACTICE AND AFTER A FEW MINUTES SOMEONE WOULD SAY, "LETS GO FIND A PARTY" OR SOMETHING AND THAT WAS THE END OF THAT. NEEDLESS TO SAY, WE COULD PARTY WITH THE BEST OF ROCK N ROLL BANDS, BUT OUR PROFORMANCES LEFT A LOT TO BE DESIRED
AFTER HIGH SCHOOL, I DECIDED TO WORK SOLO, JUST WRITING AND RECORDING MY OWN STUFF, I ALWAYS INTENDED TO FIND SOME OTHER DEDICATED PEOPLE TO SOMEDAY FORM A GOOD BAND, BUT ALL THAT CHANGED WITH MARRIAGE, AND BABY.
IN THE EARLY YEARS OF MY MARRIAGE, MY GUITAR PLAYING WAS NOT VERY CONSISTANT AND THEN WHEN I GOT SAVED IT REALLY GOT SCARCE. SATAN HAD CONVINCED ME THAT I COULDN'T PLAY GOSPEL MUSIC.
AFTER PLAYING GUITAR FOR SO LONG, IT WAS IF A PART OF ME WAS MISSING, I COULD NO LONGER PLAY MANY OF  THE THINGS I USED TO PLAY.
I NEVER REALIZED I COULD SING A LICK BECAUSE 80'S HEAVY METAL MUSIC WAS USUALLY SUNG BY SOMEONE WITH AN EXTREMELY HIGH VOICE, BUT AS I STARTED LISTENING TO SOUTHERN GOSPEL MUSIC MORE, I REALIZED THAT I COULD "HEAR" THE PARTS IN THE 4 PART HARMONY EASILY AND COULD HIT MOST OF THE NOTES EXCEPT THE HIGHEST OF THE HIGH AND THE LOWEST OF THE LOW.
I STARTED SINGING TENOR IN THE SARDIS BAPTIST CHURCH CHIOR AND BEFORE LONG THEY STARTED ASKING ME TO DO SOLOS
GOD REPLACED MY LOVE OF PLAYING GUITAR AND THE EMPTINESS I HAD EXPERIENCED FROM NOT PLAYING WITH A LOVE FOR SINGING GOSPEL MUSIC. I WAS SATISFIED FOR A LONG TIME.
BUT AFTER A WHILE I STARTED TRYING TO PLAY GUITAR ALONG WITH MANY OF THE SONGS. THE THING THAT STARTED THAT WAS THAT MY MOM ALWAYS WANTED ME TO RECORD HER A TAPE OF ME SINGING. SO I WOULD RECORD A TAPE FULL OF SONGS FOR HER AND SHE WOULD WEAR THEM OUT LISTNING TO THEM. I KNOW SHE DROVE PEOPLE CRAZY BECAUSE EVERY TIME SOMEONE CAME OVER SHE WOULD SAY "YOU WANT TO HEAR THE NEW TAPE MARLON MADE ME" ANYWAY, BEFORE LONG I REALIZED THAT IT REALLY WASN'T HARD TO PLAY GOSPEL MUSIC.
SINCE THAT TIME I HAVE CONTINUED SINGING IN THE CHIOR, DOING SOLOS, SOMETIMES WITH MY GUITAR. I HAVE WRITTEN ONE GOSPEL SONG, AND HAVE WORKED ON SEVERAL MORE BUT HAVE NOT COMPLETED THEM YET. I HAVEN'T FOUND WRITING GOSPEL SONGS AS EASY AS PLAYING THEM.
I HAVE WORKED WITH SEVERAL OTHER GROUPS INCLUDING A COUPLE OF TRIO'S AND DUETS INCLUDING SOME WITH MY WIFE MOLLY. I'VE ALSO HAD THE PLEASURE OF WORKING WITH A COUPLE OF PEOPLE WITH VERY EXTENSIVE EXPERIENCE IN SOUTHERN GOSPEL MUSIC AND HAVE LEARNED A LOT FROM THEM HOWEVER, I'M STILL LEARNING!
OVER THE YEARS I HAVE HAD A LOT OF REQUEST FOR RECORDINGS OF SONGS THAT I HAVE DONE AND A LOT OF PEOPLE TELL ME IF I EVER MADE A CD THEY WANT ONE, SO HERE IT IS, MY FIRST CD, "THANKFUL". LORD WILLING IT WON'T BE THE LAST, AS I HAVE SOMETHINGS IN THE WORKS ALREADY!


.

.IT IS NOT MY DESIRE TO BECOME RICH OR FAMOUS OR TO RECIEVE PRAISE FOR MY MUSIC, BUT IT IS MY PRAYER THAT IT WILL BE A BLESSING TO SOMEONE AND WILL GLORIFY THE LORD JESUS CHRIST

Favorites
Here's a list of some of my favorite southern gospel groups:

THE INSPIRATIONS
THE OLD PATHS TRIO
PROMISE
THE JODY BROWN INDIAN FAMILY
THE ROWLANDS
KYLA ROWLAND AND DELIVERANCE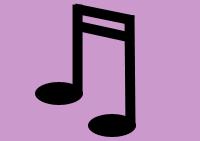 Here's a list of some of my favorite music to sing:

MY THANKS TO HIM
THE WONDER OF WONDERS
JUST WHAT HEAVEN MEANS TO ME
IT'S WORTH IT ALL
BEULAH LAND
BUT FOR THE BLOOD
THANK YOU FOR YOUR SAVING GRACE
SWEET SWEET SPIRIT
THE OLD SHIP OF ZION
OTHER LIKES
MY FAVORITE SONGWRITER IS WITHOUT A DOUBT KYLA ROWLAND. SHE SINGS WITH HER FAMILY GROUP, KYLA ROWLAND AND DELIVERANCE. SHE FORMERLY SANG WITH HER BROTHER RON MARTIN, IN A GROUP CALLED THE ROWLANDS UP UNTIL THEIR MOTHER GOT SICK. RON KEPT THE ROWLANDS GOING WITH OTHER MEMBERS, 90% OF THEIR SONGS WERE WRITTEN BY KYLA. WHEN KYLA WAS ABLE TO START BACK SINGING SHE BEGAN HE NEW GROUP. SOME OF HER SONGS SHE HAS WRITTEN INCLUDE, "He Will Roll You Over The Tide", "One Scarred Hand", "Still On The Throne", "A Wall Of Prayer", "I Made It By Grace", & "There Rose A Lamb" "Somewhere A Warrior" " I Can Still Pray Through" "Sounds Like The Truth To Me" "I'm Glad I Got Lost" "God Saves Old Sinners" "Heavenly Honey" "I'll Take The Old Highway" "Guilty Of Loving Me"

ANOTHER OF MY FAVORITES IS MIKE UPRIGHT HE WROTE BUT FOR THE BLOOD, AND THE COMMON MAN
FAVORITE GOSPEL MUSIC GUITARIST? COULD I NAME ANYONE BESIDES ROGER FORTNER?
FAVORITE SOLOIST? WITHOUT A DOUBT, BRO. AMOS STOVER, I'VE NEVER SEEN ANYONE WITH MORE GOD ON HIM WHEN HE SINGS.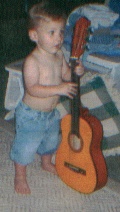 LIKE FATHER, LIKE SON
MY SON HASTEN
THE INSPIRATIONS